On Wednesday, August 31st 2010 at 4:54pm, Parker Dean entered the world.
His birth story can be found
here
.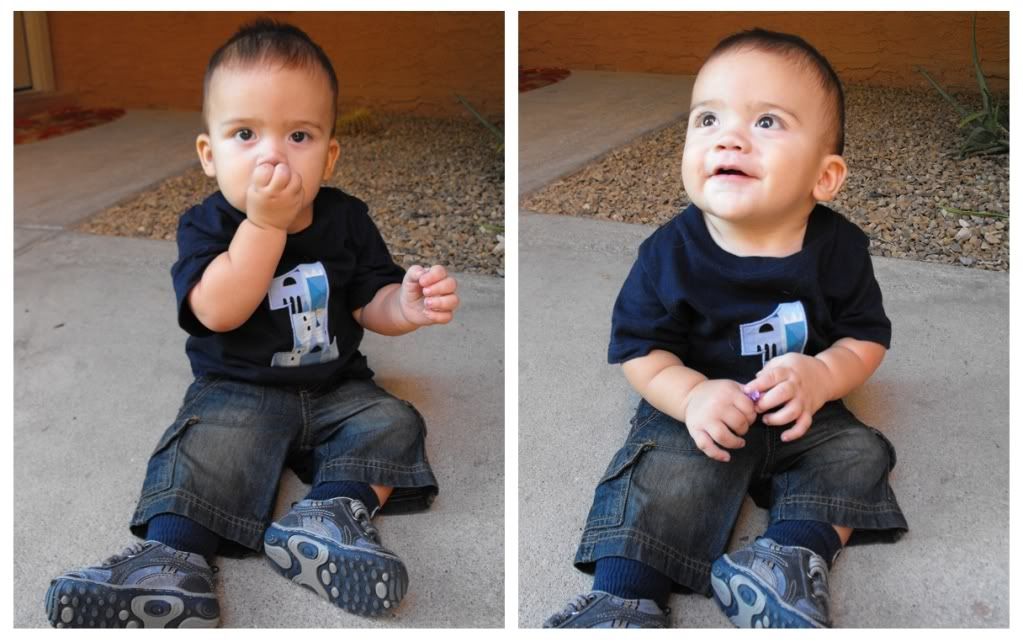 I read through Parker's birth story the other day and I found myself reading through a lot of my pregnancy posts. I'm so glad that I wrote a blog about my pregnancy. I love re-reading some of my experiences during my pregnancy. Some of the things I had already forgotten about. Especially my
34 week post
where I was debating packing my hospital bag. Since Parker arrived just a week later I look back and thought, "Man I really should have packed it."
I had so many things that I had planned for Parker's arrival including the hospital gown I made and never got to wear because I couldn't remember where I put it. Of course, I'm trying to remember everything and then relay all the items I needed over the phone, mid labor, to my father.
Parker at 12 months:
-weighs 20 lbs
-28.5" tall
-now has 5 teeth (3 on top and 2 on bottom)
-loves music, especially movies that have music. His favorite so far is Tangled.
-loves watching any shows with bigs cats. (Lions, tigers, leopards...!) His favorite series so far is Big Cat Diaries.
-does this goofy dancing, he stands holding on to a table or chair and just shakes his booty. It is so cute and funny.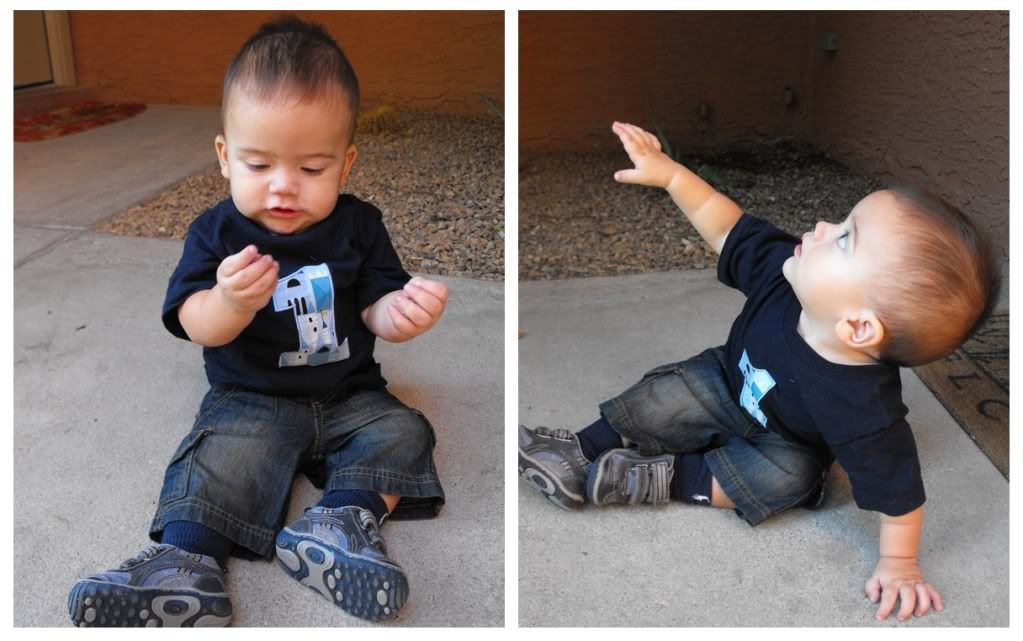 -still nurses, almost exclusively. Getting this little guy to eat regular food is really tough. He eats like a bird, only a few bites here and there. I think weaning Parker is going to be rough.
-when he does eat, he loves bananas, cheerios, burgers, toast, scrambled eggs and pb&j's. He is also developing a love for regular milk.
-Parker raises his hand at random/interesting things, I think this is his way of pointing.
-Parker says:
mama
dad
oh wow ( love when he says this)

no
meows and makes the "t" sound over and over to say 'kitty' when he sees the cats

nah nah (night night)
rara (grandma)
-Parker has taken up to 10 consecutive steps multiple times, but he still prefers to crawl or cruise on the furniture.
-Can stand unassisted with no problems.
-loves to wrestle his stuffed animals. Don't know where that comes from.
-loves to climb everything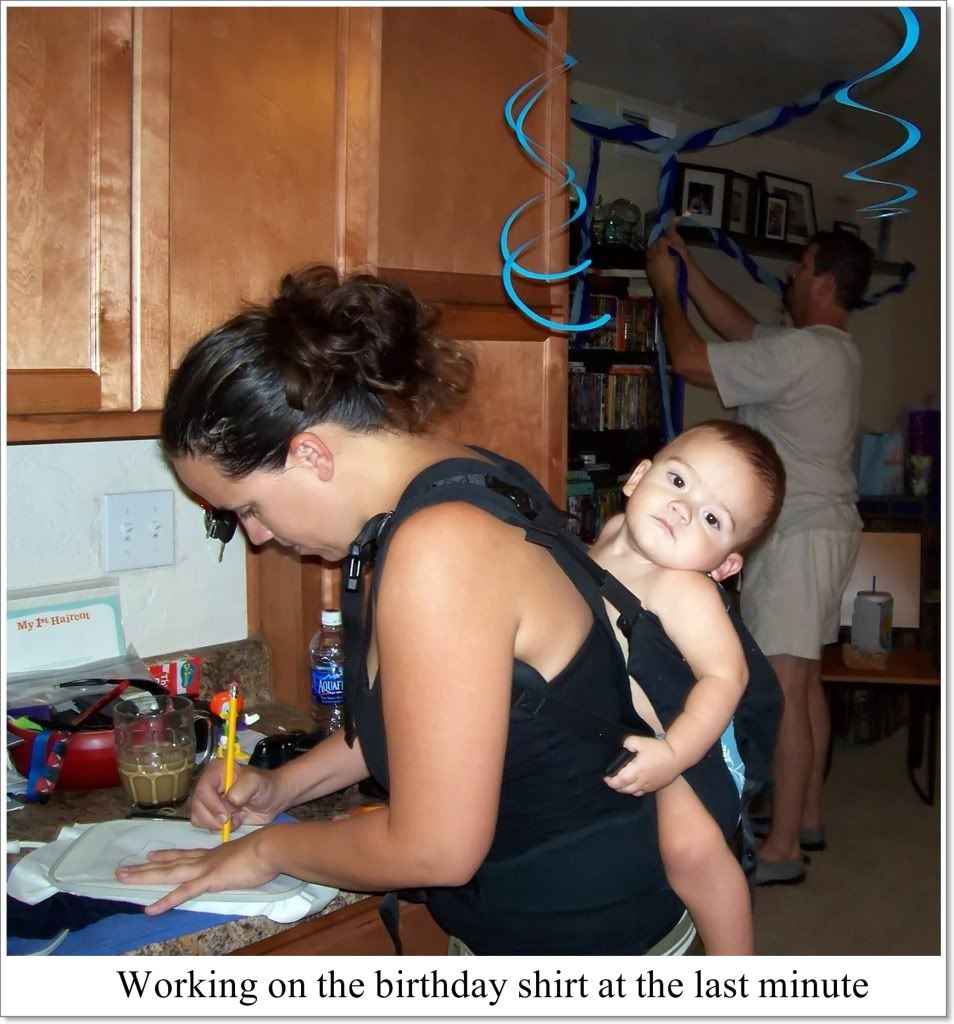 -Parker throws these funny mini fits. When he gets upset he drops to the ground and rolls onto his back. I think that he is trying to fake falling and being hurt so I will pick him up.
-Absolutely LOVES books! I know I've said this before, but he will sit so quiet for nearly an hour when he is reading his books.
-His favorite toys are any cars and his tiger
-loves to be in his ergo(carrier), and this is where he goes when I need to get stuff done around the house.
-favorite place to nap is on the couch.
-Parker is extremely ticklish. I love it!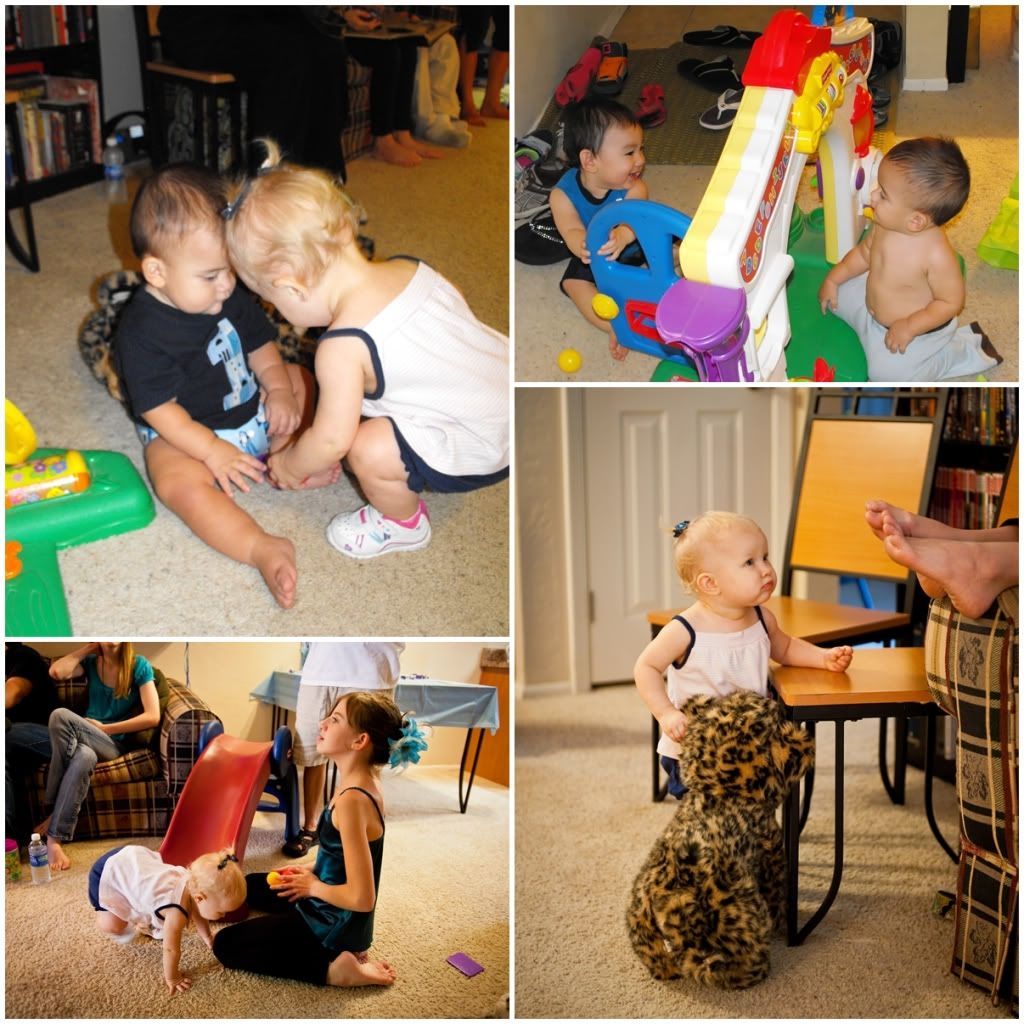 We celebrated Parker's 1st birthday on Sunday, August 28th. It was so much fun, and we are so blessed to have such wonderful family and friends celebrate his birthday with us. I had made Parker this whole outfit for the party and he refused to wear it. I think he was a little overwhelmed with all the people, which made for a very emotional 1 year old.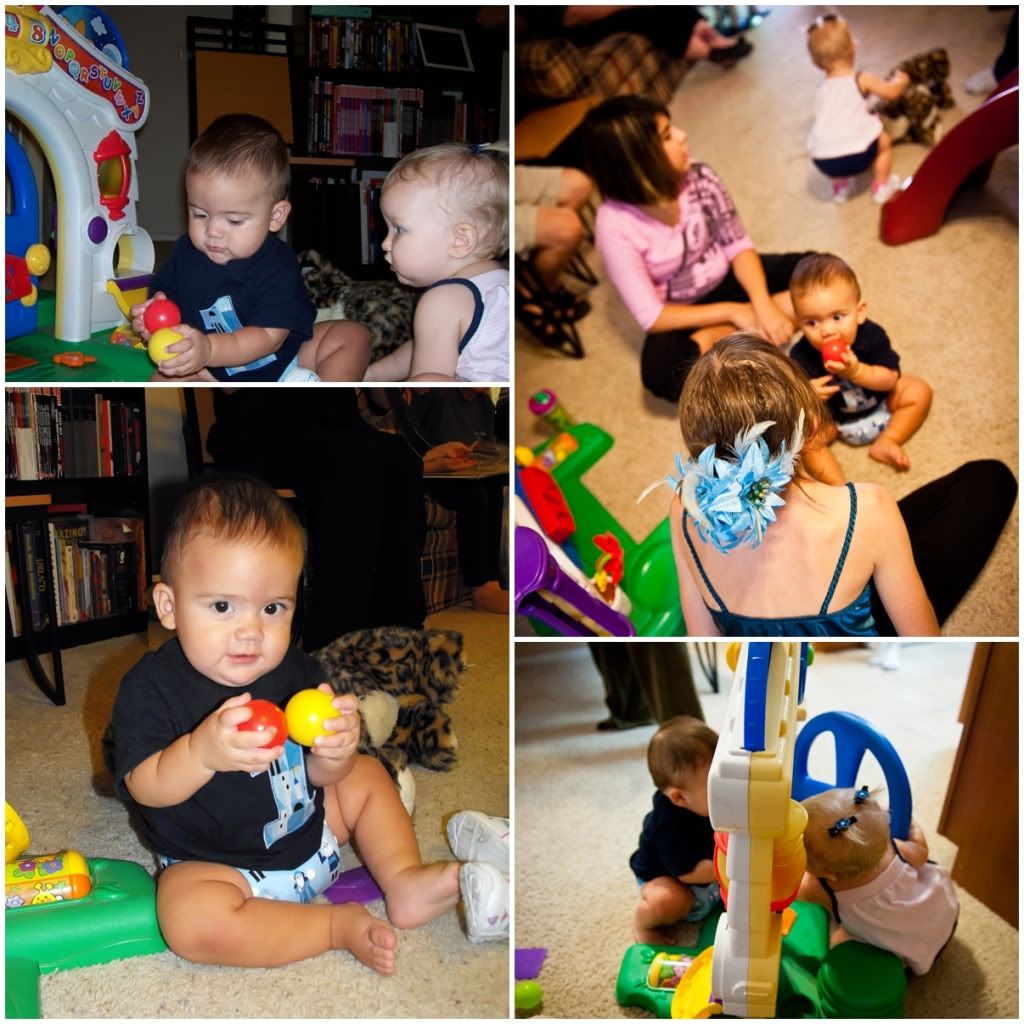 Some things we learned about Parker during his party:

-doesn't like to be the center of attention
-doesn't like to wear capes
-doesn't like to wear hats(and I have a huge obsession with hats, so he is going to have to get over this)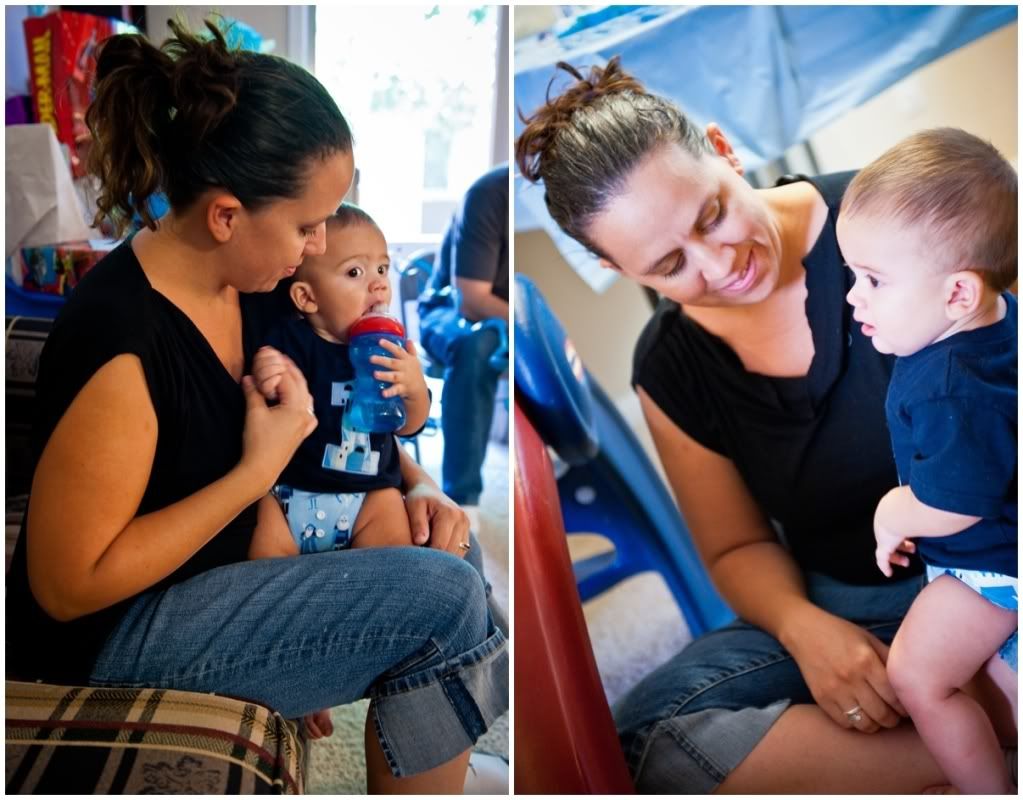 Parker wasn't very happy with everyone singing and staring at him. The lit candle on the cupcake didn't even amuse him.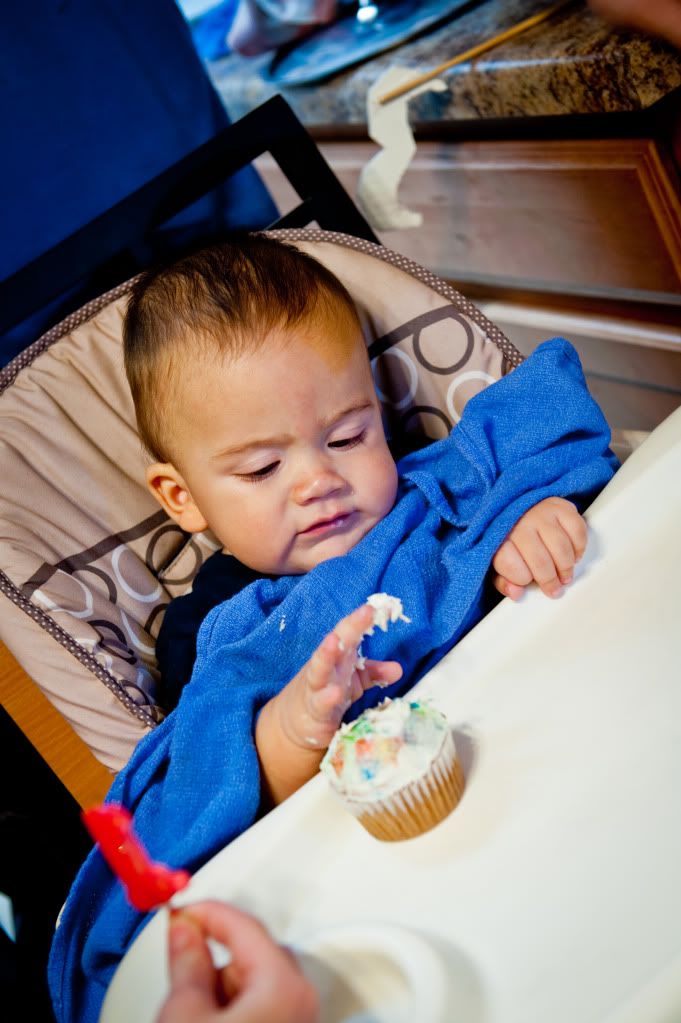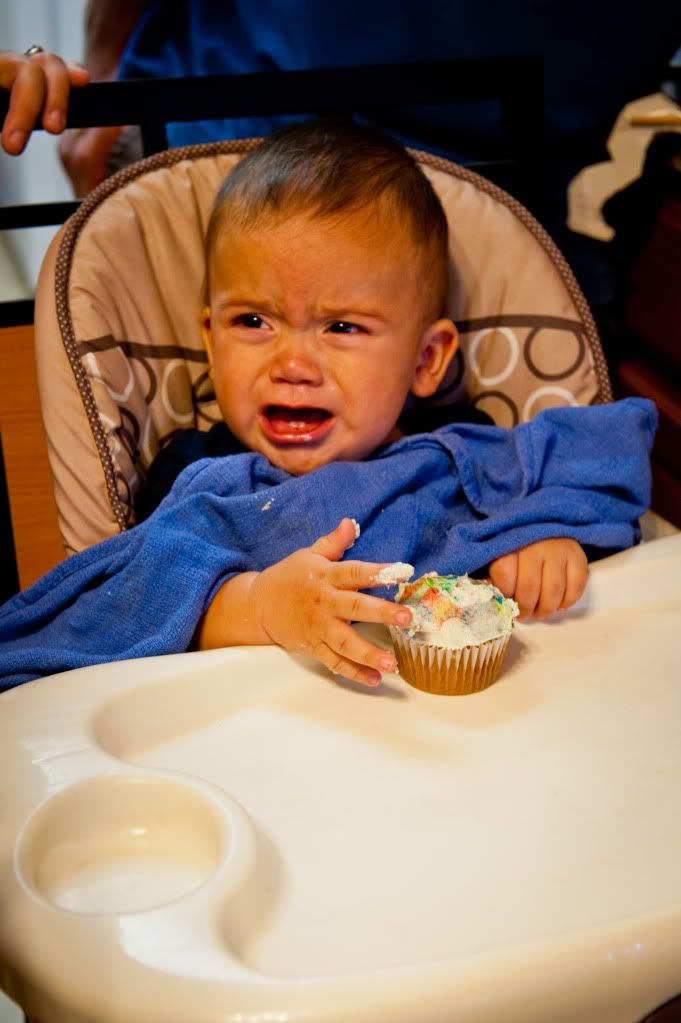 When in doubt give Parker the wrapper...who knew?!?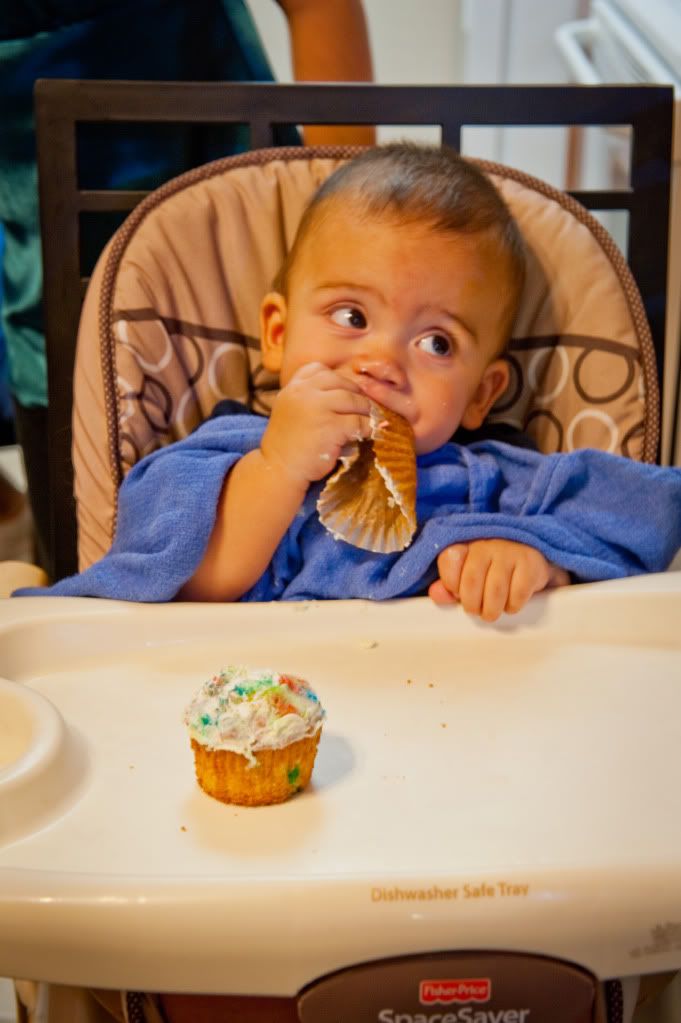 At the last minute, I decided I wanted to have a photo booth so Parker could look back and see who was at his birthday. If I was a bit more organized, we might have been able to get everyone. I'm a little bummed as we didn't have time for everyone. I wish we would have had a bigger area to take pictures and that it wasn't so darn hot! Here are a few of the ones we did get, I love this idea.

We used the tutorial on this blog to make the props, although I realize now that we used foam board instead of foam core. I bet that would have made a huge different in the difficulty of cutting out the designs.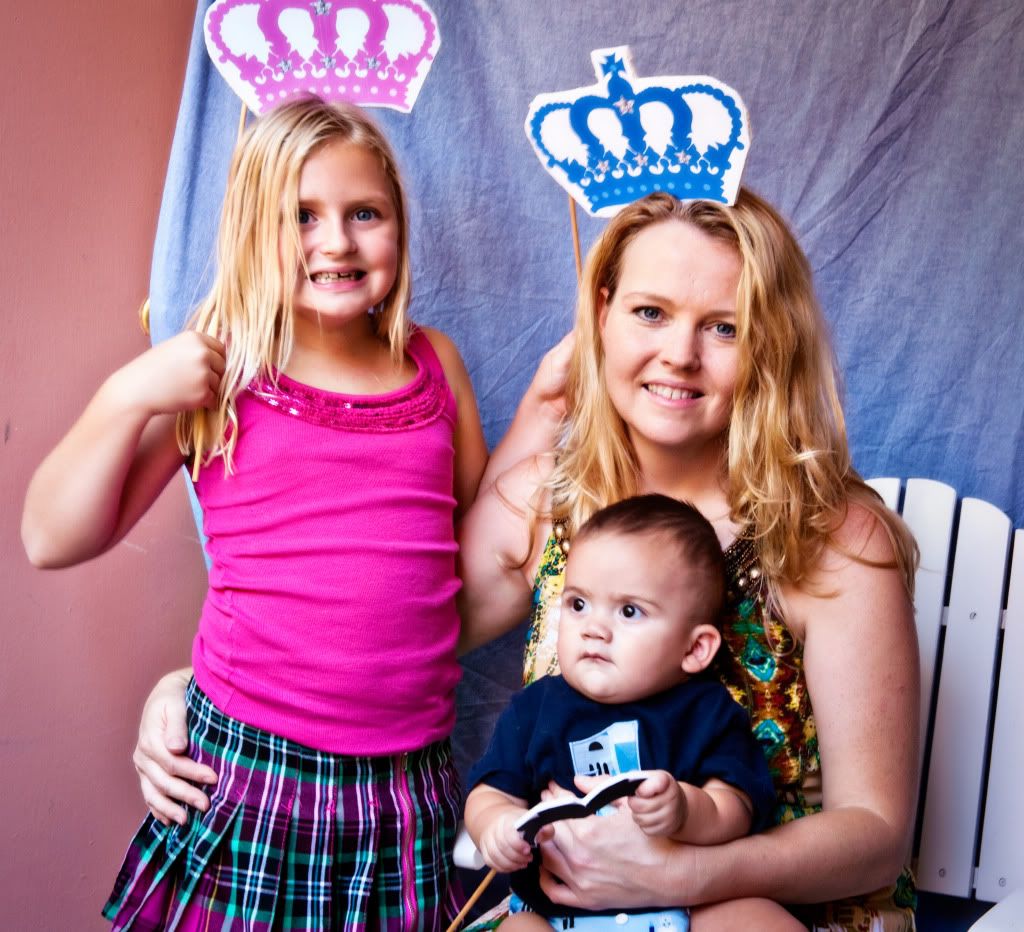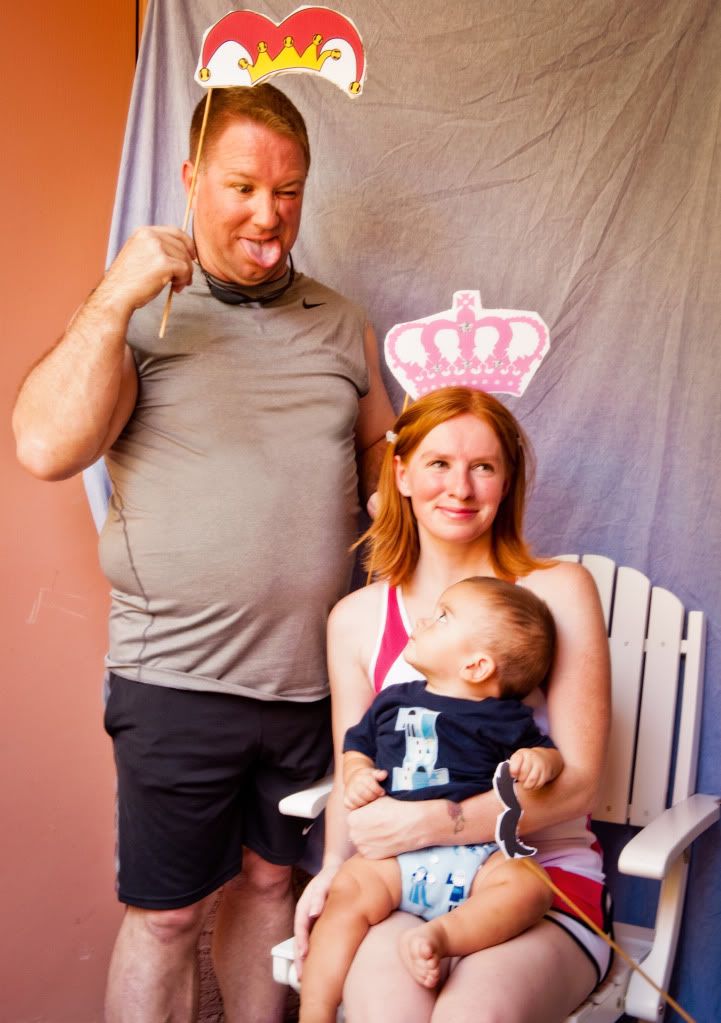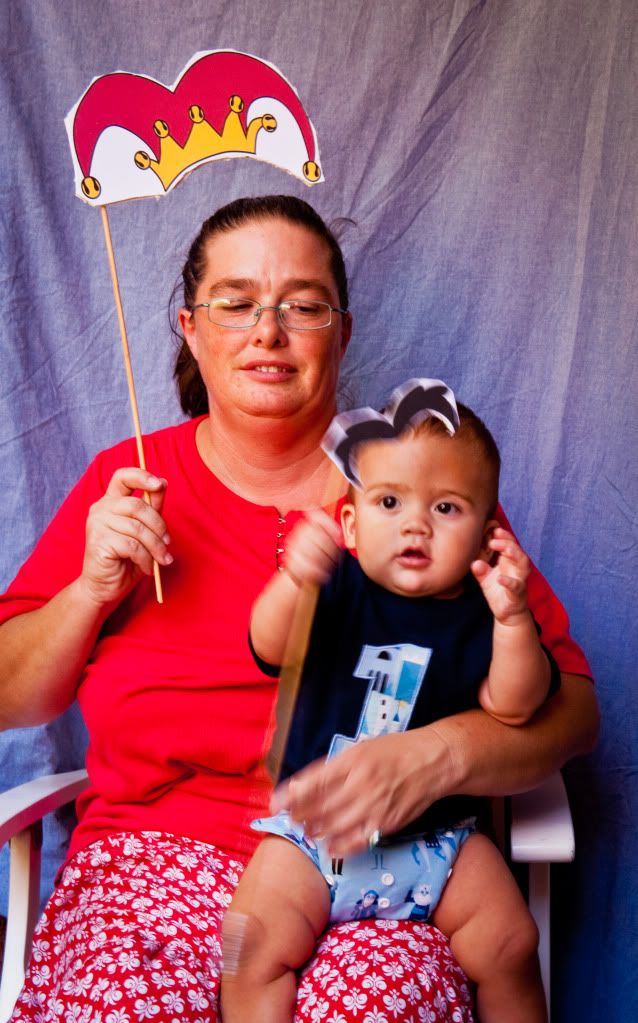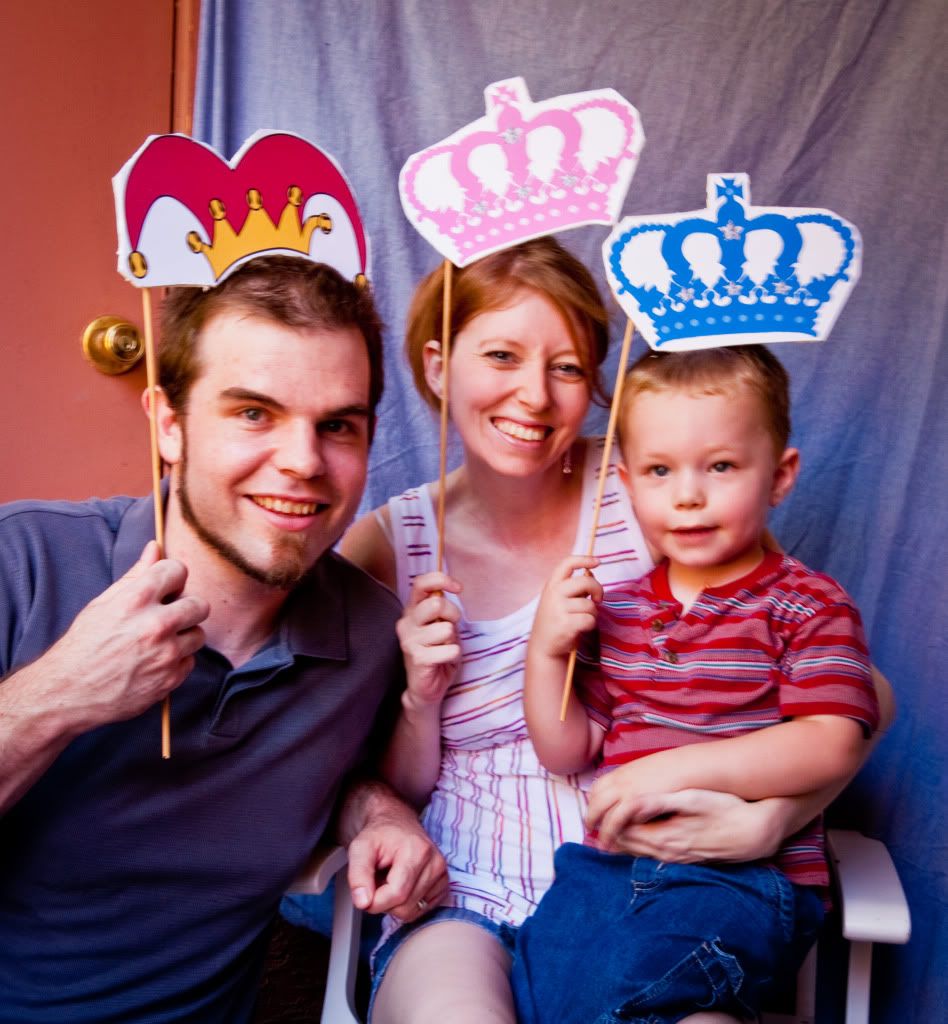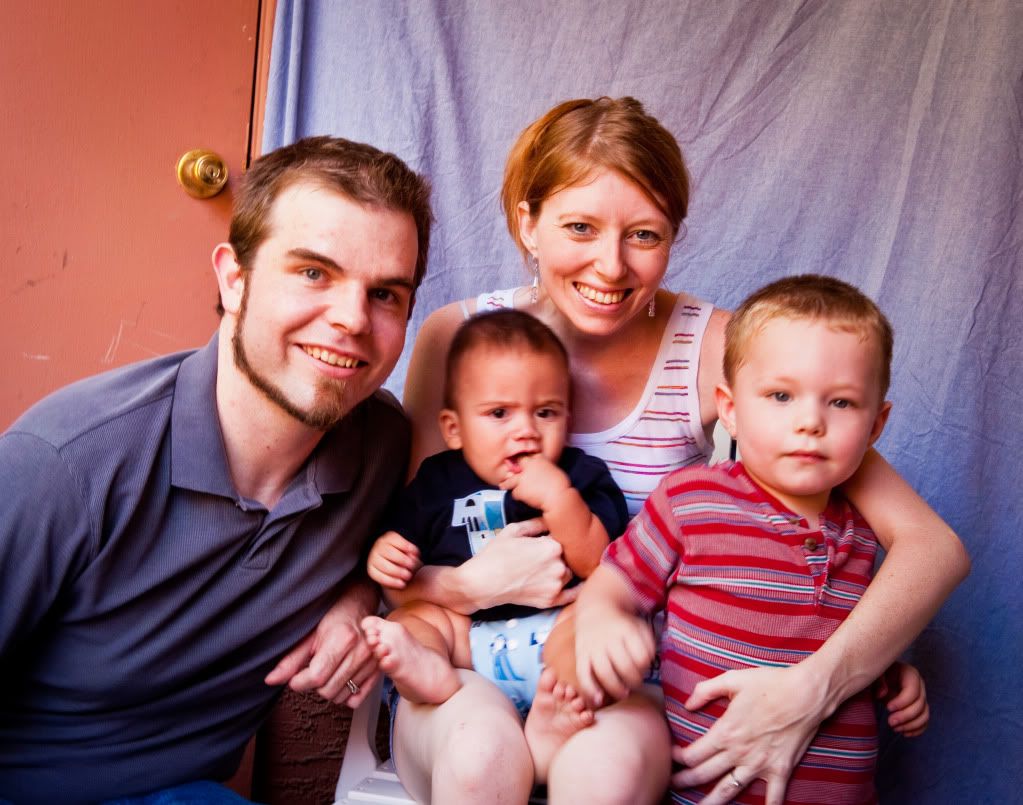 A random cute video of Parker reading his new favorite book from his Aunty Sharon.






Thank you to everyone that came to Parker's birthday and making it such a special day. Happy 1 year Parker.



I love you my lil' prince!