I'm sitting here still in disbelief that my baby girl is here! I'm typing out Eliana's birth story as she sleeps in her bouncy seat. As a quick note, this birth post will be long, but there are a lot of cute pictures to keep it moving along! I want to include some of my pregnancy experiences as well.
Lately, there have been many bloggers who have had pictures of their children stolen from their blog. The people stealing the pictures would then re-post the pictures elsewhere claiming the picture to be of their child. It's rather creepy and I wouldn't want to find myself in that position. To prevent theft and misuse of my photos, all of them will include a watermark. If you are family/friends reading this and want an original copy of a picture without the mark, call Nolan or I and we can email or mail you some.
It's been a very rough pregnancy from the get go. We didn't tell very many people, but when we had our 12 week NT ultrasound we were told that there was a 1:7 chance that our baby would be born with down syndrome. The results are based on certain measurements and marker findings during the 12 week ultrasound. They combine the u/s results with blood work they draw from me and they give you a number as to your risk factor. I know that means there was also an 85% chance that she would be fine, but the results were unsettling. We decided to schedule an amniocentesis at 15 weeks. My only basis for having the amniocentesis is that I HAD to know if there was something wrong. This way I could have the rest of the pregnancy to prepare myself emotionally, mentally and physically for it.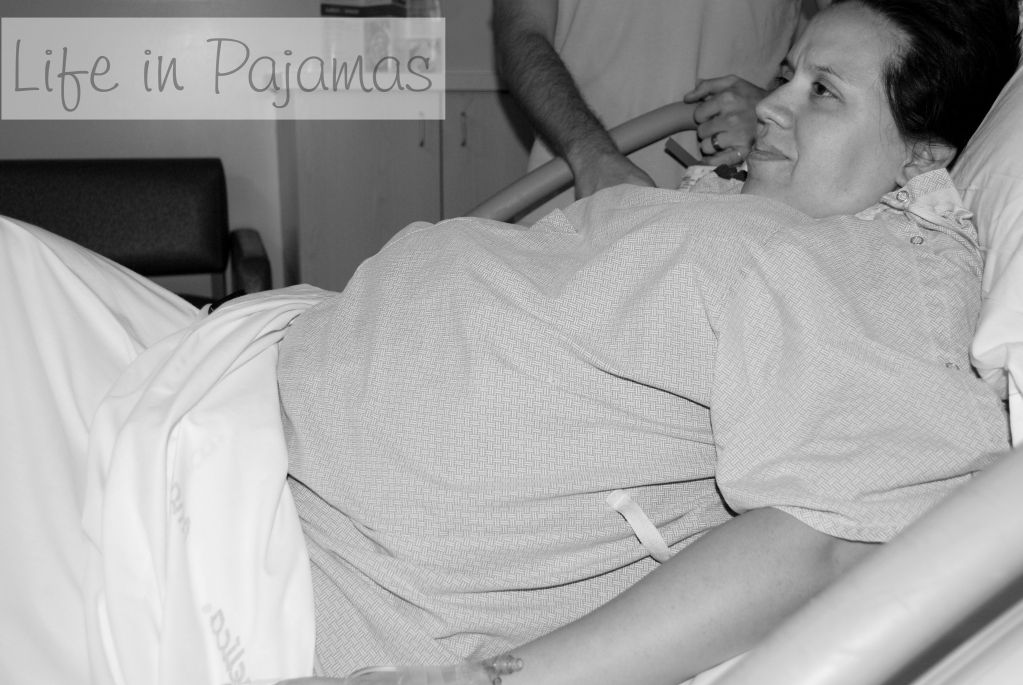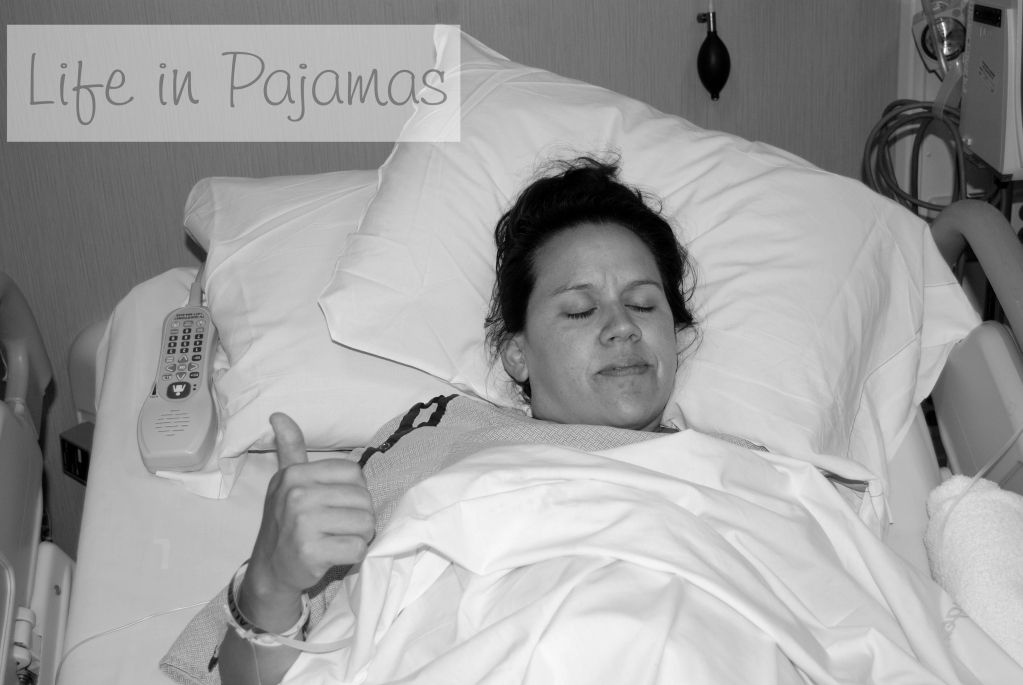 Thumbs up that the epidural was in place!
It was a VERY long 3 weeks, we said a lot of prayers. Prayers that I would be at peace with whatever God had in plan for us and our little one. I also did a ton of research. Asked women that had been in my position a lot of questions. I have to be honest, I was terrified. I was so afraid that if she was born with something wrong I couldn't handle it. Then, I felt even more awful having those types of feelings. When my amniocentesis appointment arrived we were told that they will do an ultrasound first, based on those results we could still move forward with the amnio or decide not to. After the ultrasound was finished, the doctor came in and had told us that based on the ultrasound, that everything with the baby looked perfect. He estimated that our odds changed to 1:40. We ended up opting against the amniocentesis.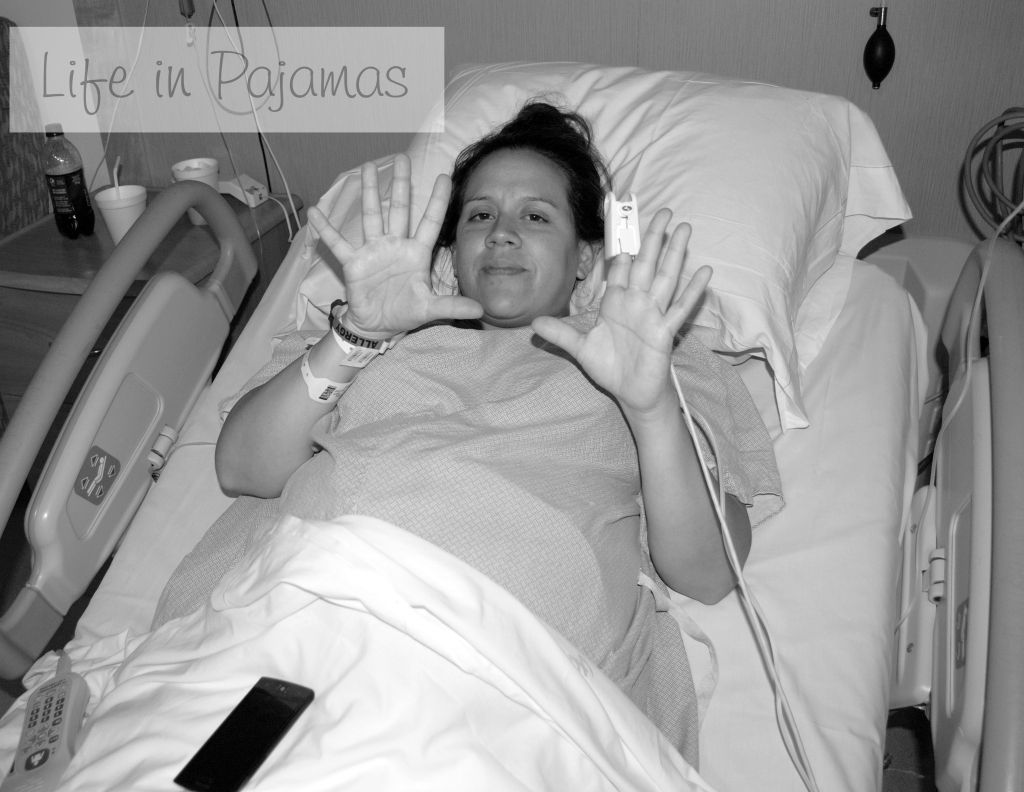 This picture was taken at 10:12pm, only minutes before Eliana was born. I was 10cm dilated waiting for the nurses to set things up for delivery.
Choosing a name:
At the 15 week ultrasound we were told that we were possibly having a girl. Then at 20 weeks, sure enough she was definitely a girl. Nolan and I had a hard time agreeing on a girl name at first. I then came across "Eliana" on a Christian name site and when I saw the meaning of the name was, "My God has answered me." I just knew, that this would be her name. Never would I realize how many times God would answer our prayers as the pregnancy progressed.
The pregnancy (a quick synopsis)
There are a lot of posts I wrote about the struggles I had with pre-term labor.. I started receiving weekly shots of 17P (progesterone shots) at 16 weeks. I had initially been started on these shots since Parker was born premature. The shots were believed to help strengthen the uterus and cervix. Around 20 weeks, I started to notice that I was having regular contractions. I can't even count how many times I visited labor and delivery to help stop them. Until 28 weeks, the contractions and visits to L&D were simply a nuisance. They were doing nothing to change my cervix, which was great news. On Labor Day, however, the contractions were becoming more painful and more regular. I went into L&D and they told me that I was dilating and effacing and was ordered bed rest by my OB. After what I thought was a successful week of bed rest, I had another bad episode of contractions and found to have dilated/effaced even more. That is when I was put in the hospital for bed rest. Basically, the medicine I was taking on a regular basis to control the contractions wasn't enough. I had to be given stronger medicine that was only available in the hospital. I was given steroid shots to help mature the baby's lungs and I spent the rest of Sept and the beginning of Oct in the hospital. I was released from the hospital on October 3rd and I stopped all medicine for contractions on October 5th.
Eliana's date of arrival: Oct 11th, 2012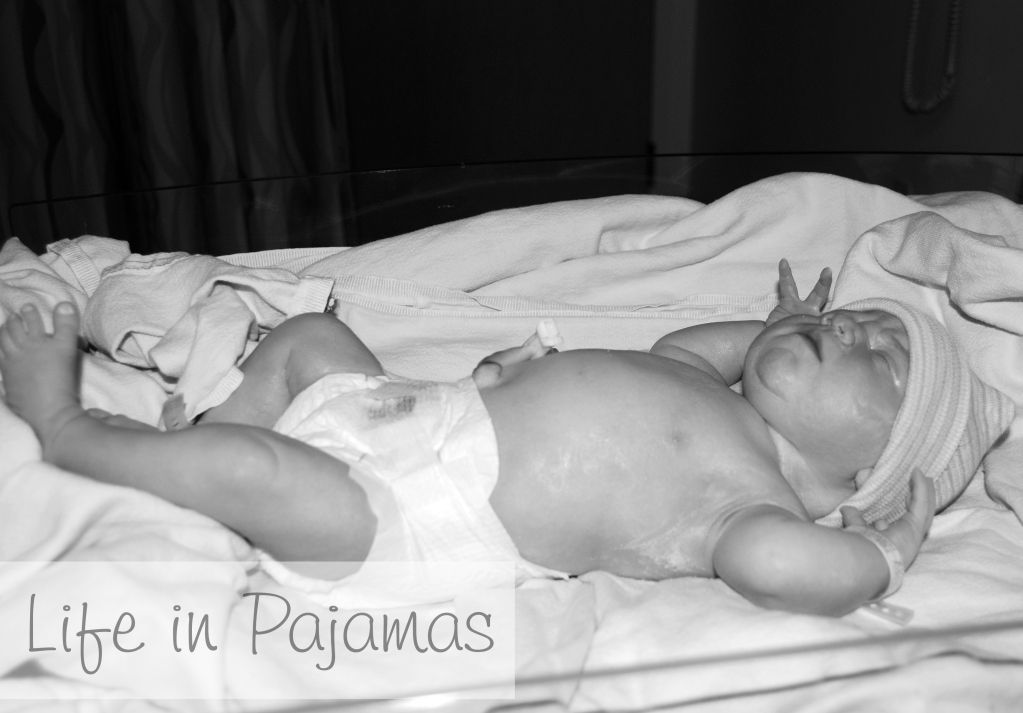 I would say something like, "The day started of like any other day..." but that wouldn't be correct. I woke up having this feeling that today might be the day. The problem was that ever since I'd stopped taking the medicine for contractions, I was having painful contractions 3-5 minutes apart. These lasted until the day Eliana was born. This made it tough for me to determine if I should go to labor and delivery to be checked out. I thought maybe it was wishful thinking and decided to go about my day.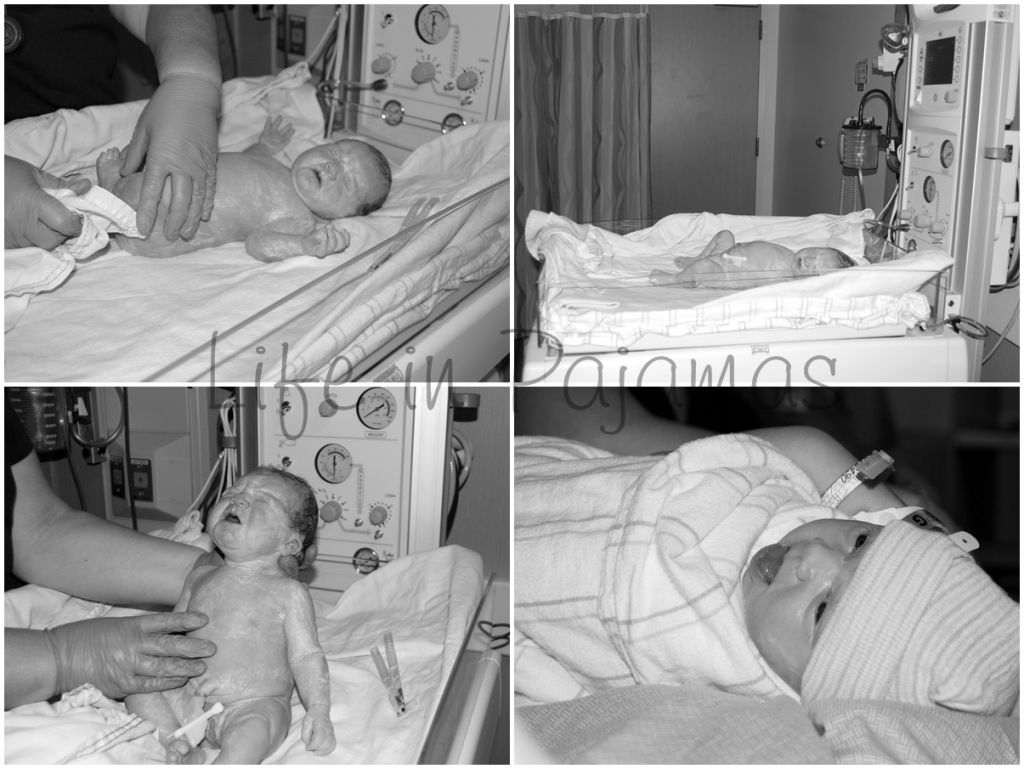 Around 3:30pm I was so uncomfortable. The contractions were definitely stronger, but still about 3-5 minutes apart. I had my husband and my best friend meet me at the hospital by our house. I was near my parents house at the time, and the hospital by our house was much closer. I couldn't stand sitting in the car any longer to drive to the hospital I planned on delivering at. Once I got to the hospital, the nurses hooked me up to all the monitors and checked me. I remember the nurse saying, "You are 4cm dilated." Yay, progress! Though it little progress, I was optimistic. Then she said, "Actually no, only a little more than 3cm dilated." Ugghh! That is exactly what I was at my OB's office the afternoon before. I couldn't understand how my contractions could be so consistent for so many days, painful even, with my body making no changes. In L&D the contractions were 3 minutes apart. I in no way was wanting Eliana to come before she was ready, but anyone who has been in similar situation as me will understand how frustrating it is.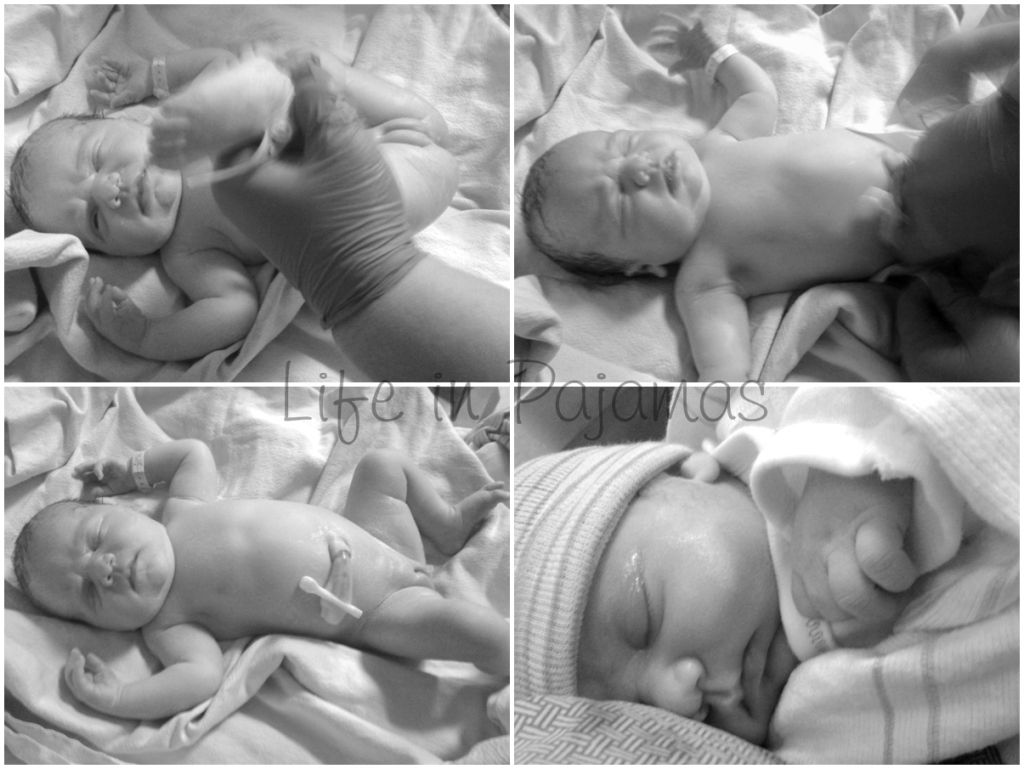 The nurse explained that even though I was only a day from 37 weeks, they will not do anything to help me progress. I had to prove to them that my body was truly in labor. Consistent painful contractions aren't considered "true" labor if my cervix doesn't change with them. She gave us the option to walk around the hospital for an hour and come back to see if that changes anything. After the walk I came back, but still no changes. The nurse explained that she will talk with the doctor on call and see what she says, but since I hadn't shown change in the hour I would most likely be going home. The doctor was in another delivery at the time so we decided to try another walk while we were waiting. I was only a few minutes into the walk and I couldn't take anymore. I was so uncomfortable and we went back to the triage room to wait so I could go home.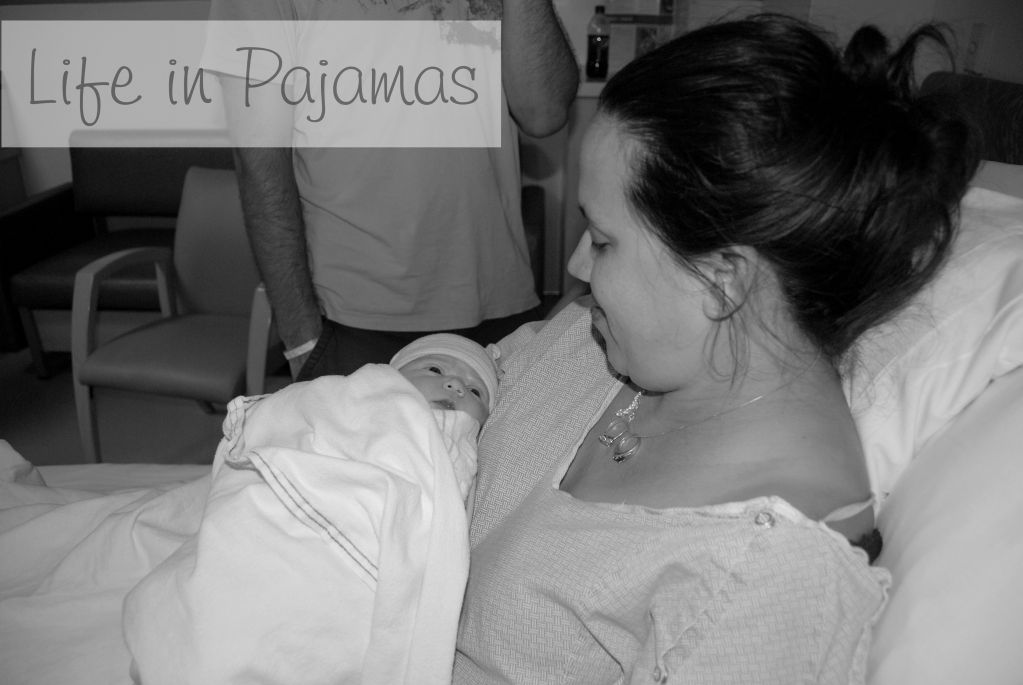 Around 7:30pm the doctor finally came in to see us. She checked and said, "Well, you are definitely more than 3cm. I'd say more like a solid 5cm. You are 100% effaced and baby is engaged." I was seriously shocked. Change?!? With the contractions the way they were, I was happy to hear that I was in fact dilating. I kept wondering how I could have managed these contractions if I was sent home. I was in a lot of pain, but this pain would be an understatement compared to the pain I would feel as labor would progress. With my other two pregnancies, I'd had an epidural before I was in major pain so I'd never been in this much pain with them.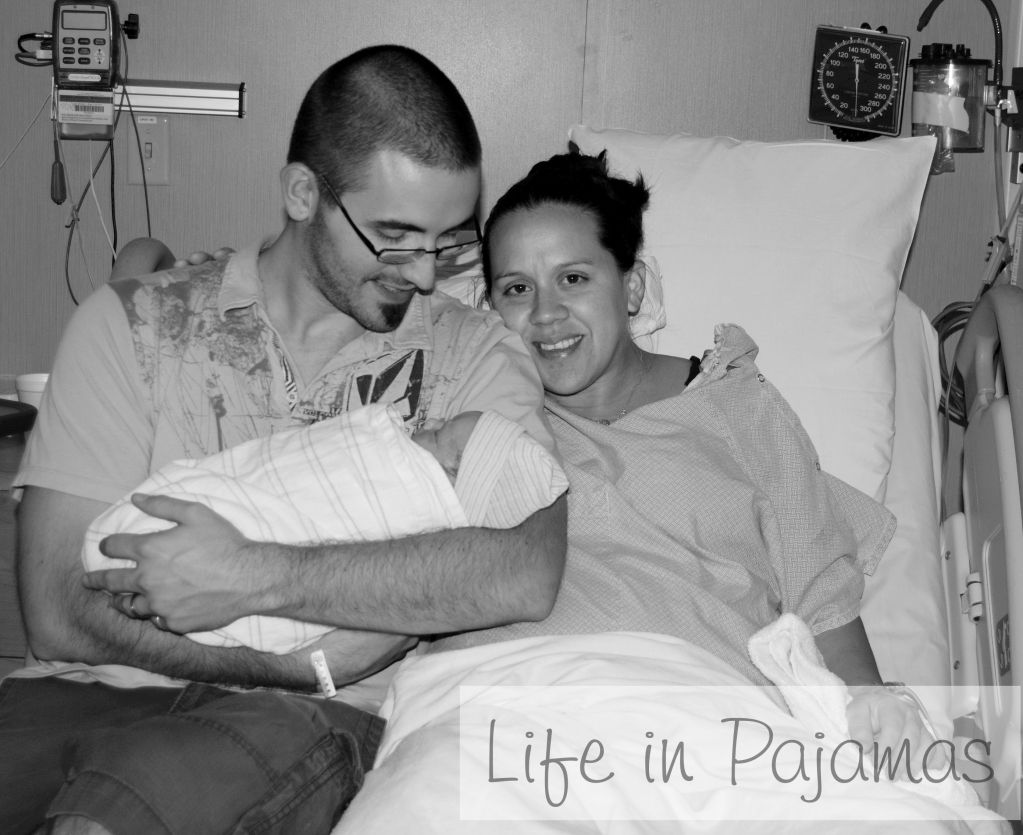 Around 8:15pm I was "officially" admitted to the hospital, but again was reminded by the doctor that my body would have to do this all on it's own. They won't do anything to help progress the labor, including breaking my water. At 9:00pm the epidural was in place....thank goodness! I wasn't the screaming lady you see in the movies, but I was sure close to it. The nurse came back just before 10:00 pm and check me and said that I was 10cm dilated. WOAH! Once the epidural was in I was fairly comfortable(only feeling pressure) that I didn't think that I would or even had dilated that fast. If I think back to my pregnancies with my son and daughter, once I hit 5/6cm, they were born within the hour. The nurse brought in the doctor who told me that my bag of waters was bulging and still hadn't broken. She explained that once they broke my water my cervix could come back or "un-dilate" a little. According to the nurse after they broke my water she said I was now only 6cm.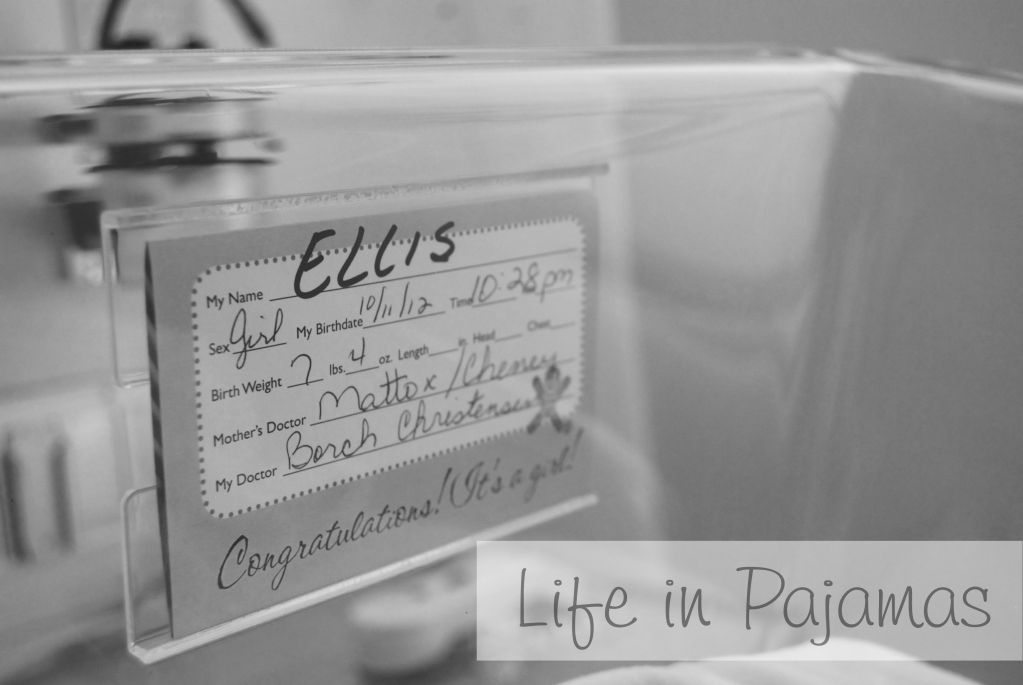 At 10:12pm the doctor came in to check my cervix herself and found that I wasn't 6cm, but still 10cm. So they started setting up all the labor equipment. The nurse was actually thinking that I might have been close to fully dilated during the time they were placing the epidural because of all the pressure and pain I was in. I couldn't sit still. It took the anesthesiologist 3 tries to place the epidural.
At 10:28pm Miss Eliana arrived after pushing through 3 contractions. She weight 7lbs 4oz and was 19 1/4" long. Absolutely perfect in every way!
Eliana-"My God has answered me." It couldn't be any truer. He answered us when we asked for guidance early in the pregnancy. He answered us during every scare we had to L&D. He answered us at 31 weeks when we asked to keep Eliana in a little longer, so she could be healthy and come home with us and not stay in the NICU. He answered me when I struggled with being away from my family for so long. He answered us when Eliana arrived and she was perfect in every way.